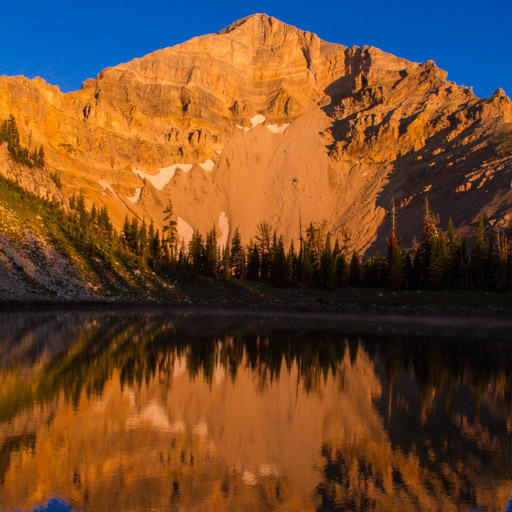 Birch Creek – Trilobite Lakes Trip
August 3 – 10, 2017  
*FULL
Hike near stunningly clear alpine lakes, in large open meadows, and through immense limestone valleys on this eight-day trip. Located in the northern end of the Bob Marshall Wilderness Complex, this trip starts at the South Fork of Birch Creek and the dark blue waters of Swift Reservoir.
We wind our way along the South Fork, passing beautiful rock pools and small slot canyons as we go. Making our way over the Continental Divide through a low pass, we arrive at the astounding Big River Meadows. Big River Meadows is close to 1,000 acres in size and filled with wildflowers, white tail deer, and the occasional moose.  Here, we spend a couple of nights, and on our layover day, we climb Crystal Ridge to the West, affording us dramatic views in all directions.
After our stay at Big River Meadows, we hike west through the rocky Gateway Gorge and down Strawberry Creek towards the Middle Fork of the Flathead River.  From here, we enjoy Clack Creek Meadows for three nights. On our layover days, we explore the Trilobite Range with alpine lakes and towering peaks abound. Elk, bighorn sheep, mountain goats and bears are often seen in this area.
On our last two days, we travel through a recently burned area full of bright fireweed flowers. The contrast between the pink flowers and the burnt trees is at once beautiful and eerie.
We end our trip by hiking over Teton Pass and down to the West Fork of the Teton, located several drainages south of where we began. This trip is perfect for the hiker who wants a little bit of everything—wildflower viewing, peak climbing, river walking, and alpine lake swimming.
Trip Rating: Moderately Strenuous         Price: $2060       Distance: 47 miles (not including day hike mileage) 77 miles (including day hikes)      8 days/7 nights
To learn more about how we rate our trips, view Trip Rating Definitions.