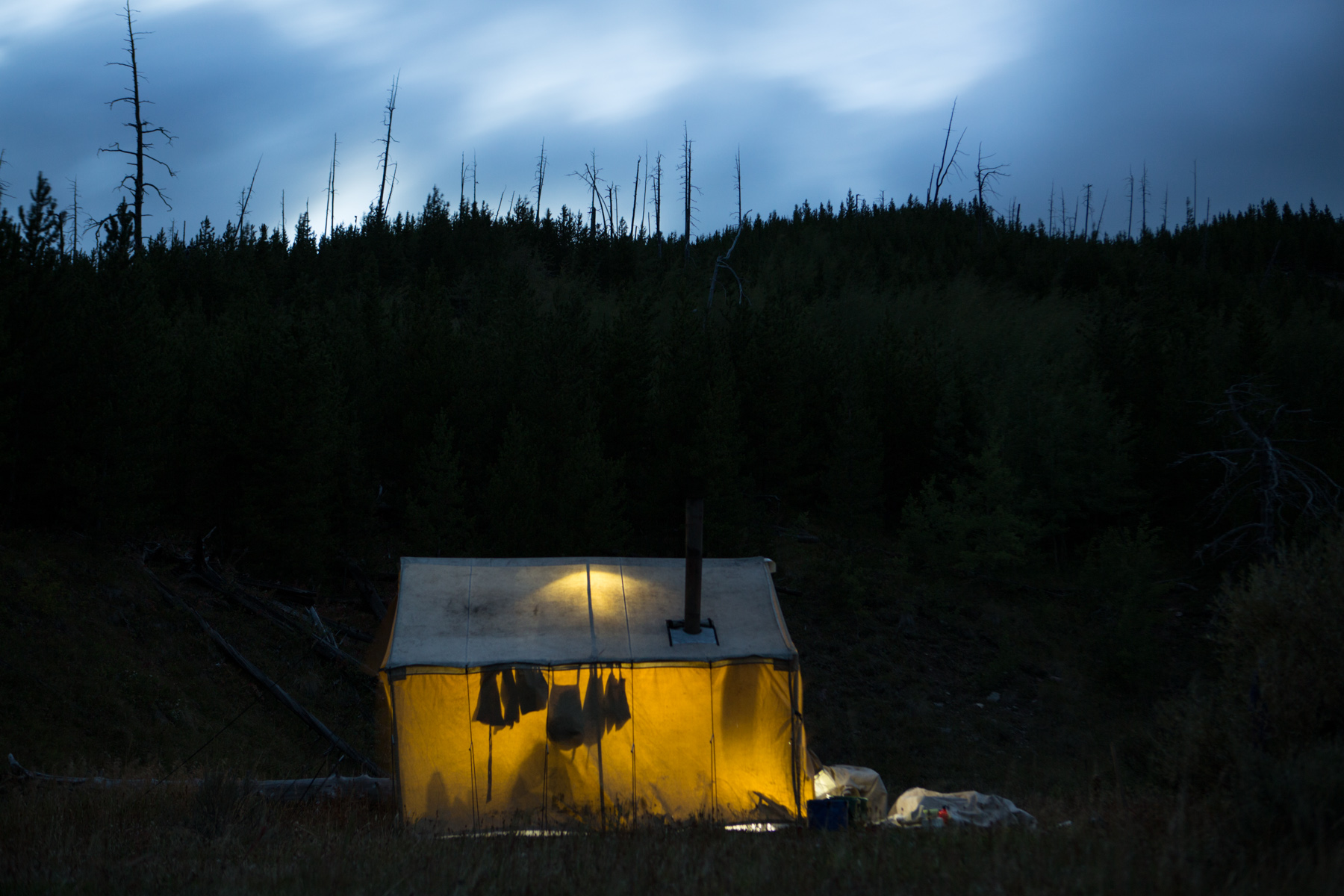 Late Summer along the Sun River
September 4 – 9, 2017
Enjoy the autumnal glow of the waning summer days in the North and South Fork of the Sun River drainages.  It is the perfect time to witness these large river valleys on the cusp of seasonal change—see the bright red and orange of the changing Rocky Mountain Maple leaves and hear the elk bugle, signaling the beginning of the fall rut.
We begin our trip along Gibson Reservoir – the collection point of the North, South, and West Fork of the Sun Rivers. The Reservoir is low this time of year, giving us the opportunity to see Scattering Springs, a series of tepid springs that flow from the ground. Sheep Mountain looms in the distance, and the sheer rock cliffs along the reservoir remind us of the prowess of the land.
Coming to a trail junction, we ascend a small hill before dropping into the Arsenic Creek Drainage. We stay here for a night and then climb up Arsenic Creek through huge Douglas Fir stands before dropping down into the immense, wild North Fork of the Sun River valley and entering the Bob Marshall Wilderness. Staying for a few nights along the North Fork, we have the opportunity to explore the twists and turns of the river. The valley is almost magical this time of year, with the changing colors, the bugling elk, and the grandness of the landscape.
As we cross the river to hike to our next camp, we enter the Sun River Game Preserve where no hunting is allowed. Because of this, there is a good chance of seeing elk as they begin their fall mating rituals or to hear the occasional wolf howl. We arrive at the South Fork of the Sun River after a mellow meander over a small divide. We camp along the South Fork near Bear Creek for a couple of nights, hiking up to Bear Lake, a large high alpine tarn that sits just south of Sheep Mountain. Fish are plentiful in the Sun, so you can also spend the day surveying each bend in the river.
On our final day, we head up stream, hiking through the 2007 Ahorn burn. We traverse Pretty Prairie, an expansive meadow that was once used as an airstrip, and cross the South Fork just before the confluence of the South and West Forks of the Sun. Hiking upstream to the Benchmark Trailhead, we walk through the burn where the fireweed is turned a burnt orange, starkly contrasting the charred and greying wood.
This is an ideal trip for fall color lovers, wildlife viewers, fisher people, and those looking to really soak in the beauty of the wilderness.
Trip Rating: Moderate       Price: $1560      Distance: 32.5 miles (not including day hike mileage)      51.5 miles (including day hikes)      6 days/5 nights
To learn more about how we rate our trips, view Trip Rating Definitions.