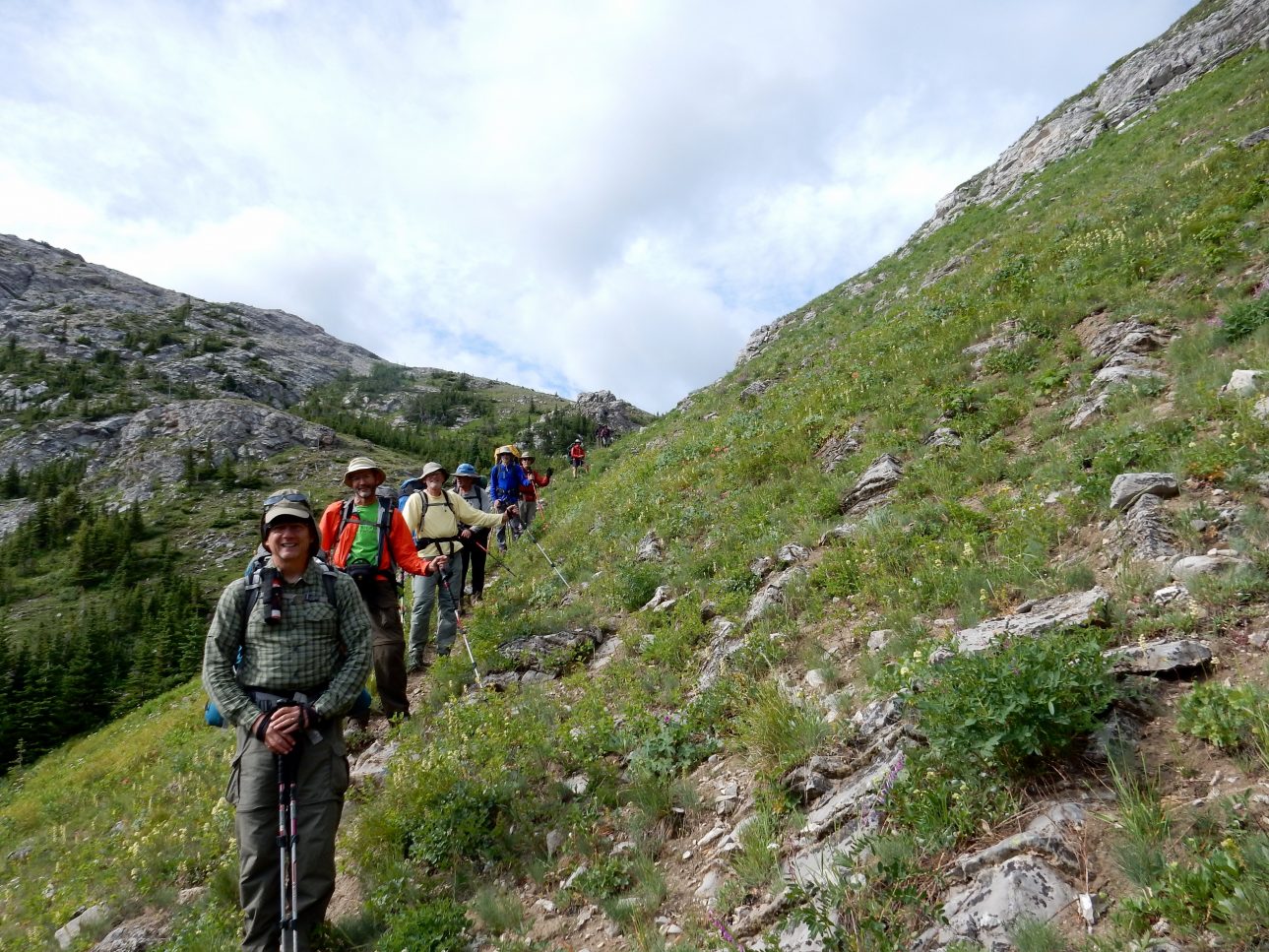 Silvertip Mountain Backpacking Loop with Bill Cunningham
June 27, – July 6, 2017
If you've ever hiked along the Great Divide in the heart of the Bob Marshall Wilderness you've been captivated by the magnificent sight of Silvertip Mountain far off to the northwest. Isolated from surrounding peaks and rising to nearly 9,000 feet, Silvertip is the northern sentinel of the Bob. It is also the site of one of the nation's deepest cave systems as well as home to remnant glaciers on its northern flanks. Its namesake denizen, the grizzly, is among the wide diversity of wildlife in this wild, remote country. Occupying the center of a vast trail-less region in the northwest corner of the Wilderness, Silvertip Peak is the pivotal point of an exciting 10-day 45-mile backpack—from the sparkling South Fork of the Flathead River to the rushing Spotted Bear River.
We begin our wilderness journey with a two-night camp along the South Fork, an excellent native cutthroat trout stream with enjoyable hiking—a perfect warm-up for our strenuous circumnavigation of Silvertip. We then climb, traverse and camp along the steep, rugged divide between the Spotted Bear and South Fork Rivers, followed by alpine camping far across Silvertip Creek near Ibex Peak. From this lofty camp we head off trail across the vast northern basins of Silvertip, and from there to the apex of this rarely climbed summit. The views of wild untrammeled country in every direction are overwhelming—more than worth the hard effort it will take to get there.
Our next camp is at the head of the fabled White River, which we reach by hiking off-trail along the crest of the spectacular Wall Creek Cliffs. From these headwaters below the Chinese Wall, we climb to a high pass and then head north, with the option of either backpacking down Wall Creek, or traversing the 8000 foot high crest of Bungalow Mountain which provides exhilarating vistas throughout its 9-mile length. This latter option is high, dry and weather-dependent. In either event, we layover along the Spotted Bear River with superb day hiking to include visiting a beautiful mountain lake below the North Chinese Wall.
On the final day of our monumental backpacking adventure we hike along the Spotted Bear River, complete with gorges, spellbinding waterfalls, and deep emerald pools. This unique route, with a chance to ascend one of the most impressive peaks in the Bob, is an accomplishment you'll remember fondly for years to come. If you are looking to climb one of the most iconic mountains in the Bob and to experience ruggedly beautiful country with only what you can carry on your back, then this is the trip for you.
Trip Rating: Strenuous – Previous off-trial backpacking experience mandatory        Price: $1600         Distance: 45 miles (not including day hike mileage)  70 miles (including day hikes)     10 days/9 nights
To learn more about how we rate our trips, view Trip Rating Definitions.