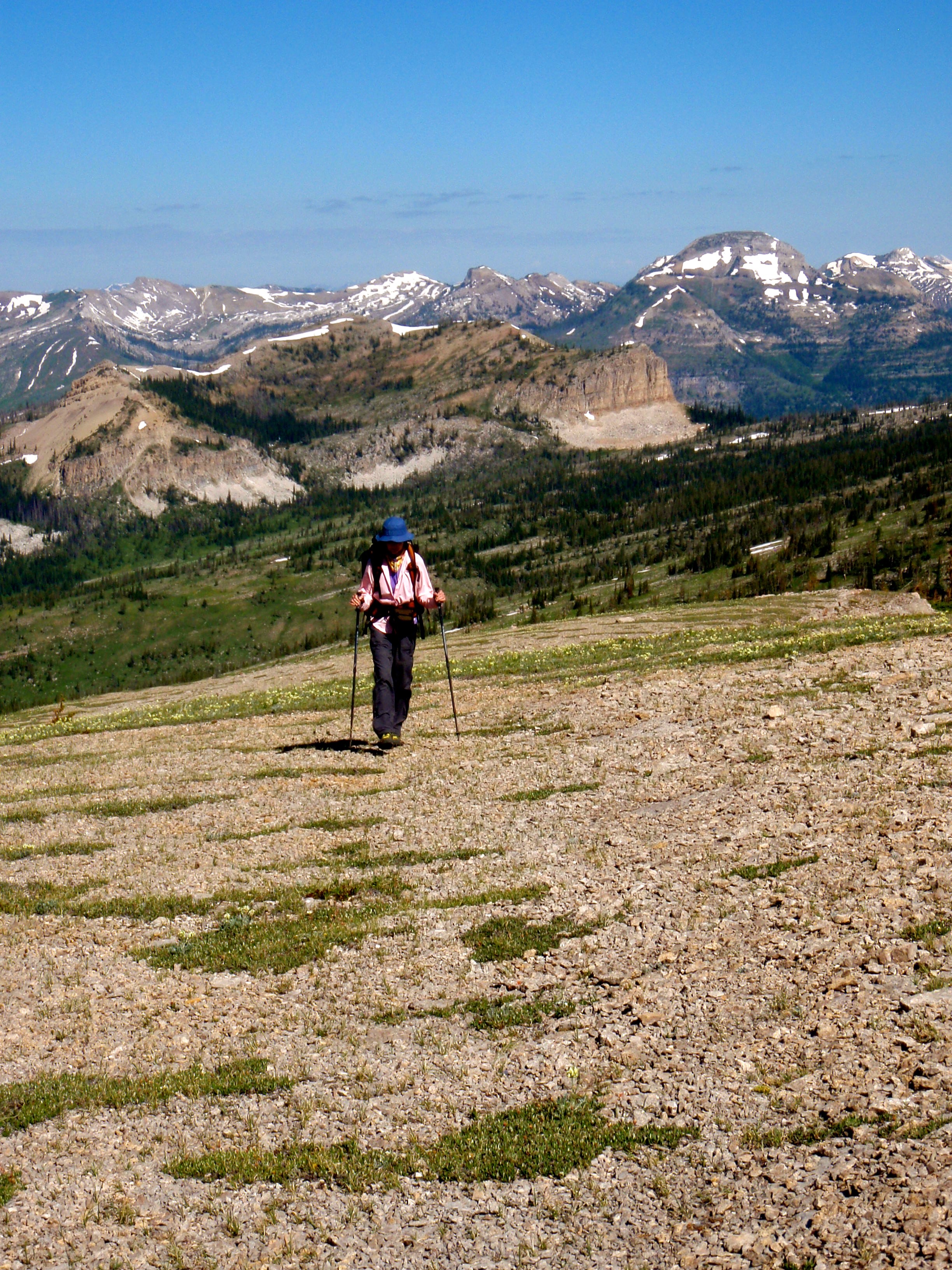 Triple Trans-Bob Marshall Wilderness Backpacking Traverse: West to East via the Swan Range, Pagoda Pass, and the Chinese Wall
with Bill and Bryn Cunningham
June 26 – July 6, 2018                       11 days/10 nights
Explore the majesty of the wilds in our Triple Trans Bob Marshall Wilderness Backpacking Traverse. This trip covers the breadth of the Bob from west to east, camping next to high alpine lakes beneath Cooney Mountain, (8709'), hiking along the swift crystalline waters of the South Fork of the Flathead, and scaling Salt Mountain (8270') along the Chinese Wall. We hike off trail across permanent snowfields in the Swan Range, along the spine of the geologically impressive Pagoda Range, and across the continental divide through a tiny slot in the otherwise formidable Chinese Wall.   While about 70% of the travel is on-trail, expect several days of rugged off-trail adventure, reaching places seldom visited by humans.
Our route takes us up and over the Swan Range on the west side of the Bob. We then travel down to Big Salmon Lake and the South Fork of the Flathead River where fishing opportunities abound. From here, we hike over the Pagoda Range to the east, exploring the high country above the White River before venturing up Cliff Creek and taking in the high country on the backside of the Chinese Wall. The end of our trip finds us basking along the North Fork of the Sun River, which has more incredible fishing opportunities and early summer flowers flourish. Our final day takes us via boat ride out through the massive limestone of the Sawtooths, the eastern most mountain range in the Bob Marshall Wilderness.
This is a rare opportunity to traverse the entire Bob Marshall Wilderness and have a true wilderness experience where all you need is what you carry on your back. This is strictly a backpacking trip with no stock support except for one food drop mid way through. If what you are looking for is adventure in some seriously wild country, then this is the trip for you. Please call or email for more details.
Trip Rating: Very Strenuous – previous backpacking experience mandatory   Price: $1750    
Distance: 76 miles (not including day hike mileage) 100 – 108 miles (including day hikes)   
To learn more about how we rate our trips, view Trip Rating Definitions.