Welcome to our Montana Basecamp…
At our Circus Creek Camp, we offer base camp hiking, drop camps, hunting and workshops. Our base camp is located in the Bob Marshall Wilderness Complex along the beautiful South Fork of Birch Creek. Circus Creek is the perfect jumping off point for unforgettable day hikes and fair chase hunting trips along the spiny ridges and small basins surrounding the camp. It's also a relaxing location to read a book next to the creek or sit beneath the cottonwoods and learn about the natural history of the area.
Our base camp makes everything comfier during your wilderness experience, with a large wall tent to gather in when the weather turns and a big wood stove to warm your hands next to as you drink your first cup of morning coffee. During the summer months, guests make camp for the week in beautiful tent sites. In the fall, you stay in a wall tent, complete with cots and a wood stove. And, after many a request, we have an outhouse with an actual toilet seat.
Our camp is only 11 miles in from the trailhead on a well-maintained trail that rolls along the emerald waters of Swift Reservoir and the South Fork of Birch Creek. The South Fork of Birch Creek is filled with numerous water features including grottos, canyons and small waterfalls. Most trip offerings at Circus Creek are hiking based, with horses and mules packing all your gear to the basecamp, while you only carry a light daypack. Camp rental without stock support is also available, and we do have a limited ability to provide a horse or mule for riding, if needed. Contact us for more information.
Hiking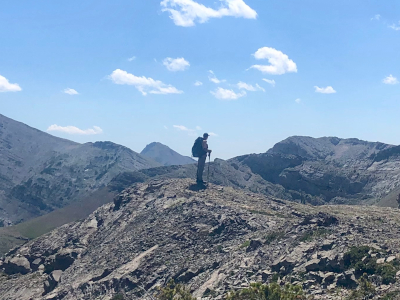 Base Camp Hiking Trips: Fully guided hiking adventures with stock assistance to and from base camp. Horses and mules carry all your gear and food, and two experienced guides lead you on an adventure of a lifetime, with treks that include the formidable Mount Patrick Gass or the breathtaking Big River Meadows. Trip prices include home-cooked meals, snacks, guide services, stock support, airport shuttle, group gear, group base camp facilities, logistics and planning, permit fees, photo-sharing coordination, a lunch bag and map of the route. Additional trip details, and rates, can be found here.
Available gear rental includes tents, sleeping bags, sleeping pads, hiking poles and backpacks.
Workshops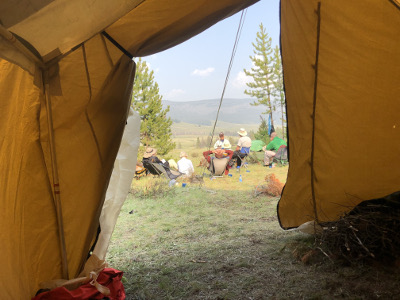 Circus Creek is the ideal location for a workshop in Montana's backcountry. Easily accessible from Choteau and Montana's Rocky Mountain Front, the camp has appropriate space for yoga, meditation, natural history education, staff retreats and more. If you're interested in Circus Creek for your next workshop or retreat, contact us for pricing and details here.
Hunting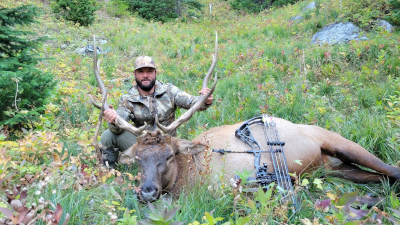 Come join us for fair chase hunting on public lands. The Birch Creek area is a corridor used by mule deer and elk as they migrate from the interior of the Bob Marshall Wilderness to the Rocky Mountain Front. Open ridgelines provide ideal mule deer habitat, while lush river bottoms and high elevation basins are perfect places to find elk grazing in small groups. The country is steep and deep and best suited for those that are seeking a rigorous hunt. Here at Dropstone, we believe the hunt is as important as the harvest and that having a true desire to be in the mountains is an important part of the adventure. We offer several services–from drop camps to guided hunts–and can facilitate sheep and goat hunts for tag holders as well. Call or email us to inquire about drop camp dates or check out hunting opportunities here.
Deer, Elk, Sheep and Goat/Archery and Rifle (5 – 7 day options)
Hunting District 441 – National Forest Lands only
Hunting drop camps: $375/wrangler, $225/pack animal per direction. Prices include a three pack animal minimum; another wrangler will be added if more than six animals are needed.
Guided basecamp hunts: $550 (hike in) per person per day (4 person minimum). If you would like to ride in, contact us for pricing.
All camp gear, food, cooking, guiding, game retrieval, stock support and other logistical support provided.
*All hunting is fair chase, and a harvest in not guaranteed. Hunters must obey Dropstone Outfitting's Hunting Rules of Conduct and Ethics. Hunters must have appropriate tags to harvest specified animals. 
Drop camps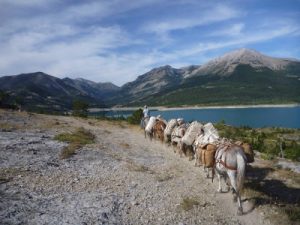 We pack your gear into our base camp, get you orientated to camp procedures and then return on a given date to pick up you gear for the trek out. Drop camp rates apply, as well as an additional camp use fee.  Use fee dependent on party size. Contact us for pricing.
Drop camp rates: $375 per wrangler ;  $225 per pack animal (each direction).  Three pack animal minimum, with an extra wrangler required for six or more pack animals. If the wrangler stays overnight, it is an additional $500.