Covid-19 updates from Dropstone Outfitting
Hello from Yve and Maggie.  No matter where you are, we hope you are well and able to get outside for a little nature therapy (with appropriate social distancing measures of course).  We have found that exercise has been a mainstay in our daily need for "mental breaks" from the stress of all things Covid-19.   Also, our awkward dogs love it . . .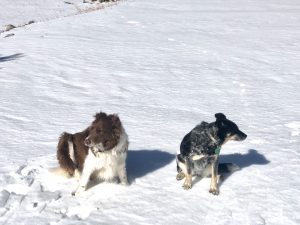 We wanted to check in with you during this time of uncertainty and to assure you we're following Covid-19 news from the World Health Organization, the Center for Disease Control, and the Montana State Governor's office daily.  Covid-19 is a new experience for all of us, and we are available and happy to answer any questions the best we can regarding the virus and your trip.  Many of you have probably been thinking about how all of this may impact your trip this summer.  At this point, we are remaining optimistic and preparing for our trips.  However, we want to be flexible because we do not know what will happen in the next few months.  The health and safety of you, our employees, families and community is the number one priority for us.
A few updates about your trip:
Because of the uncertainty surrounding the timeline and effects of the virus, we have made the following changes and updates to your Dropstone trip this summer. These are extraordinary circumstances that call for changes to our normal policies.
The trip balance due dates for the all trips have been moved to a month before the trip start date.
If we are forced to cancel a trip after the trip balance due date, we will refund your trip balance.
We STRONGLY recommend trip insurance.

 

While there are limitations to what travel insurance will cover with covid-19, most will cover if you get sick with the virus and cannot come on the trip. DO NOT come on the trip if you test positive for coronavirus within a two week time period before the trip or if you are feeling ill. PLEASE read below about travel insurance.
Cleanliness and sanitation have always been an important part of our daily routine both on the trail and off. With the arrival of Covid-19, we have ramped up our sanitation procedures even more and have made it a top priority in all areas of our operation. Additionally, we have been in touch with our state Outfitting and Guides Association about industry standards being developed for sanitation and infection control policies.

 

We will update you as we get closer to the trip date about what our procedures and policies are, what we are doing to enact them and what we may require of you.
If your trip is scheduled early in the summer, and you would rather go on a trip later in the season, let us know.

 

As things are in flux, we may be able to get you on a different trip.
As a courtesy to us, we ask two things:
If you know that you will not be coming on the trip, please let us know sooner rather than later in the event that we can find someone to take your spot.
Please buy trip insurance.

 

This is a way that may protect all of us from the financial hardship associated with covid-19.
Travel Insurance Information
–    If you have not gotten trip insurance, we strongly encourage you to do so.  There are several good options out there including World Nomads, TravelGuard and Global Rescue's IMG Signature Travel Insurance.  Purchasing trip insurance is a step that may protect all of us from the financial impacts of the virus. ****Below are a few key take-aways from our current understanding on some of the policies available, but it is up to you to make sure you understand the coverage in your policy.***
World Nomads is one of the few insurance companies that does not have a pandemic exclusion.

 

It is still available for you to purchase even if you put a trip deposit down months ago. Plans cover if you, a travel companion, or

 

(in some cases) a loved one gets Covid-19 or are quarantined and you can't travel as a result. In some cases it may cover if a doctor deems it medically unsafe for you to travel.

 

Similar to all of the plans that are not "cancel for any reason", coverage does not include fear of getting sick or trip cancellation or interruption because of travel restrictions or closures in place because of Covid-19.

 
The medium grade TravelGuard and regular IMG Signature Travel Insurance covers trip cancellation if you contract COVID – 19 before the trip and are unable to participate. You can still sign up for this policy even if you paid trip deposit months ago. (Disclaimer – each individual should check with their policy to understand the specifics of this coverage).

 

These policies will not cover fear of getting sick or travel restrictions or closures in place that may affect your ability to travel to Montana or for Dropstone to operate our business.

 
"Cancel for any reason" policies — TravelGuard and IMG Signature Travel Insurance have "cancel for any reason policies" which are the most comprehensive in regards to COVID – 19 coverage. TravelGuard may cover up to 100% of your trip if you purchase "cancel for any reason" as an add on, although this is also the most expensive plan. These policies are still available even if you signed up for the trip in December and have not gotten insurance yet. IMG Signature Travel Insurance Plus will usually cover up to 75%, but it must be purchased within 20 days of initial deposit. If you signed up for a trip several months ago, then this option is not available.
As we continue to learn more about the novel coronavirus and the timelines associated with social distancing, we will update you to how it may affect your trip. Flexibility and communication will be our guiding principle through this time of uncertainty, so please do not hesitate to contact us with any questions or concerns.  We will update this blog frequently, post any new information on Facebook, and keep you informed via email and phone.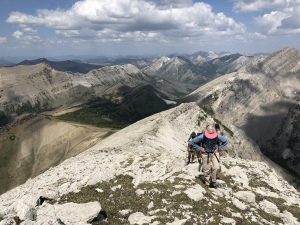 We are working hard to provide safe, fun outings this summer.  A little fresh air, relaxation, and adventure in the Bob Marshall Wilderness will be the perfect reprieve from all things corona.  
We wish you health, sanity, and safety —
Maggie and Yve