Layering Your Clothing for Variable Weather
Naked Apes need to layer up . . .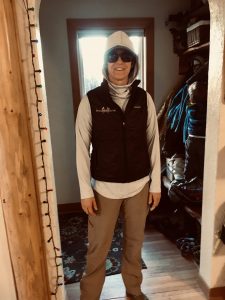 As a kid heading out to play, my parents would always yell at me to layer up.  I had no idea what they meant but as time went on, it finally began to sink in.  Living in Montana the weather can be variable and so can the activity.  Being able to add or subtract clothing (or layers) keeps you warm and comfortable.
Even in the summer, mornings and evenings in the mountains can be nippy and you will start the day's hike bundled with a hat pulled down and your collars popped.  But as the day warms up or you begin to churn up that steep mountain pass, you might find yourself sweating in your shirt sleeves.  All this in only a manner of minutes.
This is where layers come in and why they are important.  Layering clothes helps keep you comfortable throughout the day.  The ability to take off and put on clothes and switch up the combination of layers will keep you out there and enjoying the scenery much longer.  I have a joke with my dog as we hike along and I continue to stop to put on clothes or take them off and he stops and patiently looks at me while seeming to say, " Jesus lady you're stopping again?!" as I dig into my bag to pull out a fleece.  "Heh," I reply, "I can't help it I'm a naked ape."
So with that concept in mind, here are some layering basics….
No matter the season you got your base layer.  This is what goes next to your skin.  Clothing has come a long way since the cotton t-shirt so you got all kinds of options out there as far as material, just make sure it's something that is going to wick sweat away from your body, like wool or a synthetic not the comfortable cotton t-shirt.  I find this is more important during the colder seasons than the hot summer months.  You also want to pick something that isn't going to rub or chaff as you sweat and move. This layer also tends to fit a little closer to your body to make it easier to pull things over and the key ingredient here….you also want your base layer slightly fitted so it is able to do its job and wick away moisture.
This base layer is more crucial when being active in cold weather.  During cold temps you need that base layer to move sweat away from your body to keep from getting chilled. You will also want to wear a base layer on your bottom half as well.
Next comes a mid-layer.  1 or 2 in your kit that can be worn in tandem is a good idea.  Wool or synthetic, you want them to be a lighter insulating layer.  A quarter zip long underwear top and a thin fleece can keep you pretty snug, especially if you are on the move.  The fleece is also great as it will keep you warm when wet and is quick to dry out. 
An insulating layer – this can be a puffy coat, either down or synthetic and how puffy depends on the temps.  I also like to throw in a vest.  These are great layering tools and can help make several different combinations work depending on what you're doing and how cold it is.  They are also great help with the sweet pillow you are going to turn all this stuff into at night.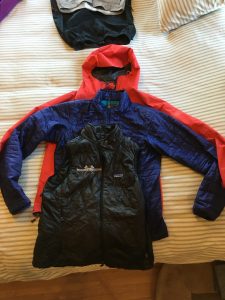 Your shell – it doesn't have to be a hard exterior but something that can buffet the wind and rain and if it's really wicked totally keep the wind and rain out is your final touch.  I strongly recommend Gortex for waterproof protection. It is expensive but when you're going to be out in wet environments for any real length of time you will quickly be grateful you have it.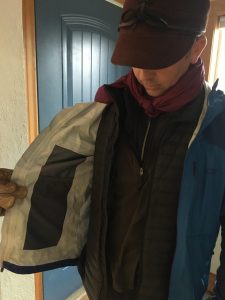 Similar rules apply to your bottom half.  As you already know you want to keep the basement as warm as the upstairs.  Normal wool long underwear usually works just fine if you're moving.  There also some great fleece tights and if it's really cold a few companies make some insulated pants that can be worn under a hard- or soft-shell pant.  
In the fall and winter, I will also layer my socks and gloves.  Liners for both feet and hands help a lot with managing sweat and keeping all those digits from getting frosty.  In the country we live managing for wind can also be important.  I'm a big fan of scarves for this reason.  They can keep the wind off your neck and if things really start to whip, they help protect your face.  This is the same reason I like to wear coats with hoods.  Not only can it help keep you from losing heat out the top of your head, but it can help keep your face warm by sheltering it from gusts.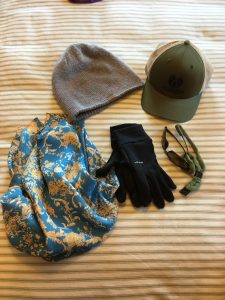 So, there's the basic formula.  For our recommended gear list please click here.  This will guide you through the basics of what to pack on an extended outing as well as what to carry in your daypack.  
Like so many things, the only way to truly dial it in is through trial and error.  So, next time you head out, stuff a few extra things in your bag or in your car.  Once you get out there experiment with different combinations and see what works best for you, what's comfortable, what you need to keep warm and all the different lovely ensembles you can create with what you already have.  And please, don't worry about looking good, it's more important to just be warm.