Montana Drop Camps
The Best Kind of Social Distancing
Looking to stay close to home and explore your own backyard this summer? Hike in the Bob Marshall Wilderness of Montana—without carrying a heavy backpack—with Dropstone's drop camp service that makes it easy for Montana families (and friends) to get outside, take a summer vacation and have a little break from all things COVID-19 while still adhering to social distancing practices. It's a great solution for itchy feet and the growing wanderlust we all have. Plus, these summer trips provide Montana residents with a chance to spend time in one of the most beautiful places in the country.  
As part of our drop camp offerings, we will pack your gear to a basecamp in the Bob Marshall Wilderness (we have many excellent recommendations) while you hike in. You can hike, hang out, fish and explore for as long as you like, and then we'll come pick up your gear on a designated date.  
What's included:  
Three to four pack animals worth of gear. Each animal can carry 120 pounds of gear ( bulk dependent).

 

Bear boxes. Bear-resistant containers are mandatory in Montana's wilderness, unless you plan on hanging your food. You must be able to hang food 10 feet off the ground and four feet out on a sturdy limb. Standard coolers are not bear resistant.

 

Basecamp location recommendations. If you have a favorite spot in the area we operate, we can also take you there, but it must be within 11 miles of trailhead.

 

Map recommendations. You can purchase a Cairn Cartographic map from us for $20. We will include a few day hike suggestions with map.
Camp shovel.
Small first aid kit.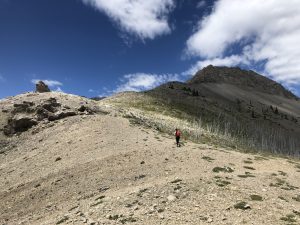 Here's the nitty gritty:
— Base rate is $1,500 for a three to four mule drop. This includes pick up and drop off. Each additional animal after four is $150 per direction. If you need more than five pack animals, another packer is needed and will be an additional $300 fee per direction. Group size limit is eight people. 
— A non-refundable $400 deposit and reservation form is needed to reserve your date. The balance is due the morning of departure.  
— A guide may be available for an additional fee. Contact us for more info. 
— You supply all of your own gear and food. We will provide bear boxes and are happy to help if you have any gear or food questions. 
— We will meet you early on the morning of departure at the trailhead to go through gear and pack it up. As part of this, we'll also be sure to adhere to all social distancing and sanitation practices in our interactions with you.  
— We would prefer that you bring a communication device (an Inreach, Spot or SAT phone) in the event of emergency or the need to communicate something to us.
— You are responsible for bringing maps/gps/compass. As you'll be in Montana's backcountry, it's  important to know where you are at all times. You can purchase a Cairn Cartographic map from us for $20 which will include a few day hike suggestions. 
— You are responsible for carrying your own bear spray and for adhering to all food storage orders for the Bob Marshall Wilderness Complex.  
— We will provide a camp shovel and will review how to properly practice human waste disposal when we meet you at the trailhead. 
Contact us to learn more about these Montana drop camp trips and to inquire into date and location options . . .