Spring 2022 Updates and Trip Openings
We are all getting ready for the growing season…
…each in our own way.  Here in Choteau we are busy prepping for another full season and just wanted to touch base with a few notes;
We have teamed up with Naturalist Extraordinaire, Eric Bergman, to offer a few guided day hikes throughout the summer.
-June 29:  Eric will be guiding a naturalist hike up Blackleaf Canyon, a Rocky Mountain Front classic.
– July 14:  Eric will be leading another hike up Lonesome Ridge over to the Middle Fork of the Teton. An off-the-beaten-path route exploring the flora, fauna, and unique geology that The Front has to offer.
– July 20:  Maggie will be guiding a summit of Rocky Mountain (9392′), the tallest mountain in the Bob Marshall Wilderness.
We still have a few openings on trips for the 2022 season:
– August 16 – 20: Circus Creek Drop Camp. Stock-supported drop camp/camp rental at our backcountry camp for your group.
– September 13 – 18: Guided Archery Hunt.  
– We also have availability for hike-in use of our backcountry
Also, this . . .  
We are excited to have teamed up with Flathead artist, Guy Zoellner, for a new graphic to celebrate 10 years of business.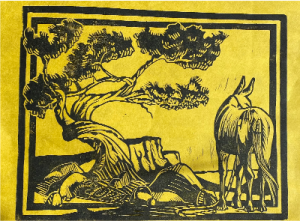 Already ?! What?! Hard to believe it's already been that long – feels like just yesterday we were sitting at Bill and Polly's kitchen table, talking over the prospect of buying the business. Time flies when you get to work in a beautiful place like the Bob!
Can't wait to share the trail with you this summer or help dream up future adventures in the Bob.
Happy trails,
Yve and Maggie