Happy Holidays 2019
Happy Holidays from Maggie and Yve! We are wishing you all a jolly holiday season and a New Year full of adventure, good health and joy.
We've had a wonderful 2019 – this last season was on the wetter side, so we had no fires to contend with and it was the best wildflower year we've ever seen. From our Climate Change trip with Steven Running to our September trip in Birch Creek, we enjoyed amazing folks and stunning landscapes across the Bob.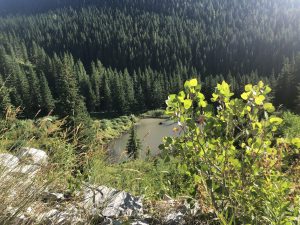 We also had a season of wildlife sightings. We had a close up viewing of a grizzly bear cooling his belly on a patch of snow. We saw two grizzly bears literally on the face of the Chinese Wall, running on a thin green patch midway through the rock. In August, there was a wolverine swimming in a creek next to the trail that scurried away quickly upon spotting us.   We also saw an aquatic moose completely submerge itself in a small pond in order to eat the plant life on the bottom while her calf laid sun bathing on the bank.   These were just the most memorable ones, but we also saw many goats, elk, deer, black bears, birds and one wolf.
We wanted to thank all of our employees, helpers and families for this past season. We are so lucky to work with and be supported by such excellent, fun loving and competent people. These are the people that make everything work.
We've got an excellent line-up for 2020. Here's the low down on the trips we still have open:
A Discussion on Climate Change   May 29 – June 1
Explore the North Fork of the Sun with Dr. Steven Running
Rocky Mountain Front Traverse   June 16 – 21
Join Naturalist Eric Bergman on a tour of the Front Range
North Fork of the Sun Serengeti Tour   July 1 – 6
Enjoy the lush North Fork of the Sun River Valley
The Iconic Chinese Wall Deluxe Backpack July 19 – 28
Experience the Bob Marshall Wilderness's crown jewel
Trilobite Range and Big River Meadows August 2 – 9
Journey to rarely visited lakes and the heart of the northern Bob Marshall Wilderness
Scapegoat Wilderness Traverse   August 14 – 20
Traverse the Scapegoat Wilderness from west to east
Snowcrest Mountains August 23 – 27
Explore the Snowcrest Range is southwestern Montana
Wildlife Backstories: Tracks, Trails and Signs Workshop September 10 – 14
Learn the backstories of the wildlife living in the Bob Marshall Wilderness
Circus Creek Archery Drop Camp with Cook October 5 – 11
Archery hunt with Cook/Camp tender
Circus Creek General Rifle Drop Camp with Cook October 23 – 29
Rifle hunt with Cook/Camp tender
Happy Holidays from Dropstone Outfitting!